Work
Dole dishes out the facts on nutrition
Dole Sunshine Company's new campaign warns that if the UK population wants to improve its nutrition, then the writing is on the wall for the country's snacking habits.
Unlock full credits and more with a Source + shots membership.
Show full credits
Hide full credits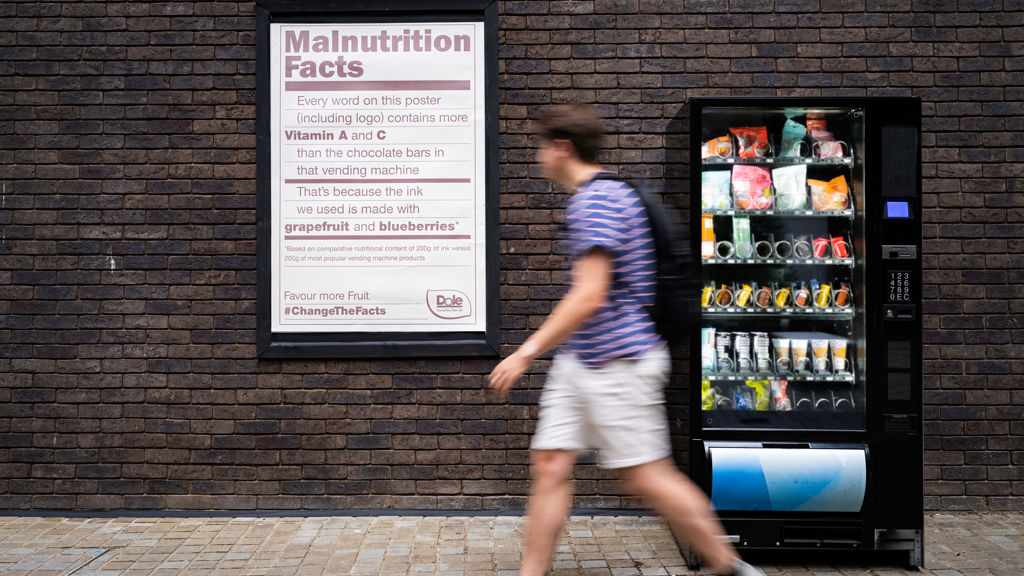 The Dole Sunshine Company [DSC] has launched a new campaign in which the UK's eating habits are examined and, ultimately, taken to task.
Created by St Luke's London, the campaign, called Nutritional Ink, focusses on the low nutritional value in some of Britain's favourite snacks food options by printing ads using ink made almost entirely of fruit.
An accompanying launch film [above], directed by Cassidy Burcher through Tag Collective Arts, shows how these specially made posters, which have been hung in various locations across the UK, contain more nutritional value than many of the snacks favoured by British snackers.
DSC and St Luke's partnered with Bompas & Parr, a company which specialises in multi-sensory experience design, to create a range of printing inks made almost entirely of fruit and natural ingredients. Testing was led by food scientists and went through various rounds of experimentation, using a variety of fruit waste and scraps, from pineapples to grapefruit, to create optimal colours and nutritional formulation for printing. The integrated campaign will be deployed across OOH, social, and digital elements.
"The truth is society still isn't taking proper note of the long term effects of poor nutrition," said Richard Denney, Executive Creative Director at St. Luke's. "Our malnutrition posters aim to change that. The fact that Dole's nutritionists and Bompas & Parr are able to create ink for our posters containing more health benefits than many of the poor quality food choices we make is pretty startling. Hopefully our campaign will get people to think a little harder about these choices, and get them to opt for a more nutritionally balanced diet."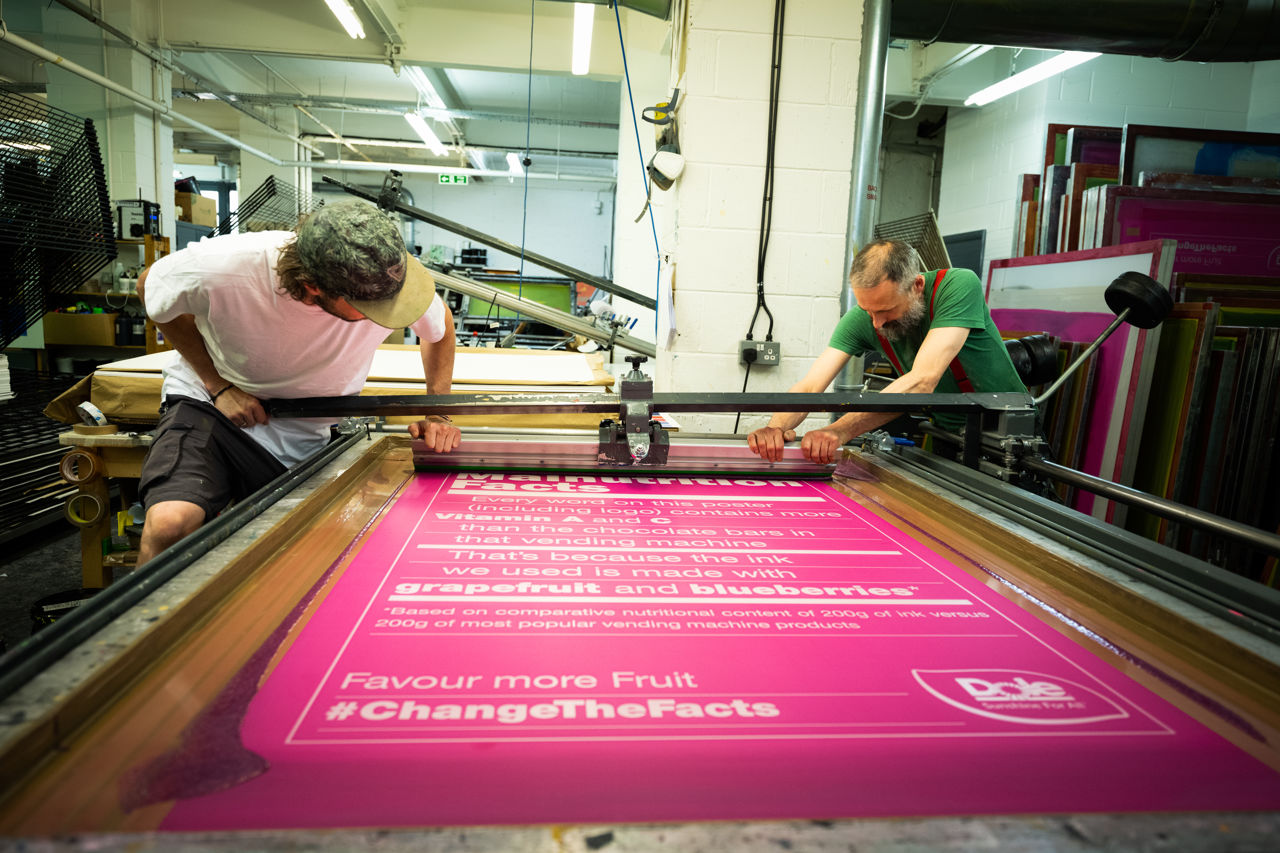 "The creative research and development process in creating a cutting-edge culinary innovation like nutritional ink has been a fascinating one, added a spokesperson from Bompas & Parr Studio. "From carefully balancing the ingredients to create vibrant colours, to modifying the textures to ensure they were compatible with screen printing techniques, we managed to show that a traditional chemical-based process can be re-produced in a sustainable plant-based way, with actual nutritional value, as well."
As part of the campaign Dole Sunshine donated products to FareShare, the UK's largest charity fighting food waste and hunger, which will be redistributed to its network of nearly 9,500 charities and community groups across the UK. As well as food banks, these charities provide wraparound services for people who are often struggling with issues including unemployment and low income, debt, homelessness, family break up, and dependency.