News
Good Oil director Tom Campbell​ tells us that Boys Do Cry
Men encouraged to challenge traditional stereotypes with Boys Do Cry, a reimagining of The Cure's iconic hit.
A nationwide campaign challenging societal views that men should always put on a brave front launches today, with a transformed version of The Cure's iconic song Boys Don't Cry, created by The Hallway.
Releasing as both a music video, produced by Good Oil and directed by Tom Campbell and a single, Boys Do Cry is the brainchild of independent advertising agency The Hallway, created in partnership with The University of Melbourne's Centre for Mental Health, mental fitness foundation Gotcha4Life, and Heiress Films, the team behind the Gus Worland-hosted ABC TV series Man Up, with support from media, marketing and creative social purpose organisation, UnLtd and media agency Initiative.
Boys Do Cry is anticipated to be one of the most significant men's mental health campaigns Australia has seen. The release will include a comprehensive campaign of videos, posters, outdoor advertising, radio ads and a campaign website, developed by The Hallway.
The transformation of the song aims to encourage men to challenge traditional masculine stereotypes, reach out to those around them, check in with their mates, and reinforce the message that connecting and opening up is not just healthy, it can be the difference between living and dying. At the core of the campaign is a film, brought to life by Good Oil's Tom Campbell, featuring a choir of 30 men from all walks of life and backgrounds, and from diverse communities. Included in the key cast is stand out recording artist and MC, Dallas Woods, a Noongar man from the East Kimberley, and actor Eddie Baroo (The Dry, Mr Inbetween, Mystery Road).
Unlock full credits and more with a Source + shots membership.
Show full credits
Hide full credits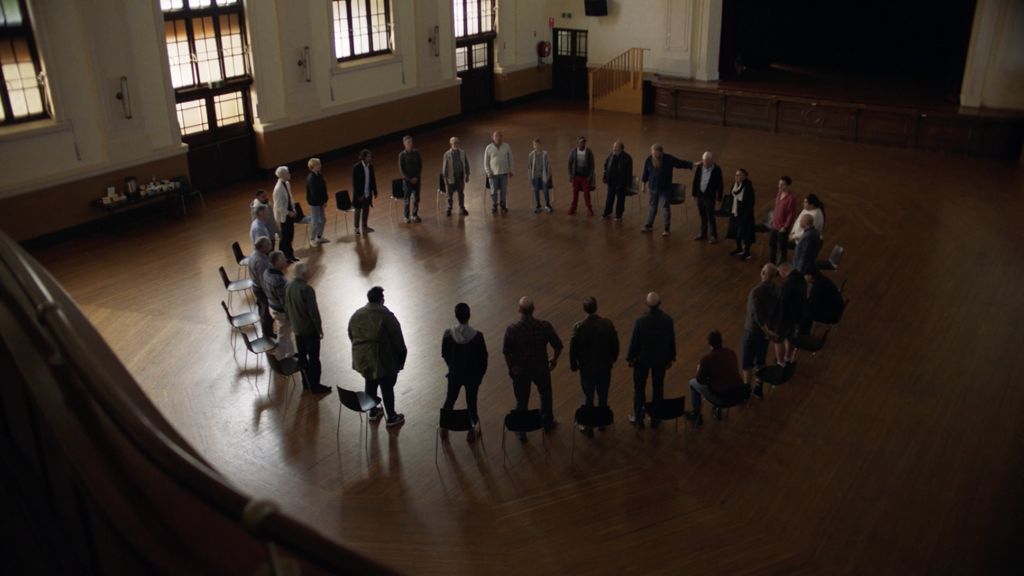 Every day in Australia, an average of seven men take their own lives. Suicide kills three times more Australian men than road accidents and is the leading cause of death for Australians aged 15-49. Nearly one in five men will experience a mental health issue like anxiety or depression in a given year, but most blokes find it hard to ask for help when they're down, and instead try to "man up" and keep their problems to themselves.
A team from the University of Melbourne's Centre for Mental Health led by Professor Jane Pirkis and Dr Angela Nicholas have run a research program on the video with a control group of men, looking at whether it influences men's likelihood of reaching out for help if they are facing tough times.
"We know that 75% of all suicides are by males, and that one of the things that may be influencing this is the pressure society places on boys and men to be self-reliant and solve problems by themselves. Our work is challenging some of these traditional masculine norms and looking at whether this may help to bring down the male suicide rate," adds Professor Pirkis.
A banner campaign featuring the campaign line "When the going gets tough, get talking", will launch with the video. It will ask community groups around Australia including Rotary, CWA, Men's Sheds, Lions Club etc, to invite their communities to make their own banner to hang in their community hall, sports club, council chambers or local meeting place.
This has been three years in the making and I want to thank everyone who has willingly given their counsel, time, resources and funding to make it a reality.
The Hallway's Partner and Executive Creative Director Simon Lee felt compelled to get the campaign's message "When the going gets tough, get talking" out to the world after experiencing first-hand the positive benefits of reaching out for help after several tough years battling anxiety.
Lee, the driving force behind the project and author of the reimagined lyrics, said: "Going and telling my GP that I was suffering from anxiety was more nerve-racking than any pitch presentation I have ever had to make. But admitting my vulnerability and reaching out for help is one of the best things I have ever done. My hope is that this campaign will help give other people the strength to do the same."
Rachel Troy, chief operating officer at UnLtd said: "We are really delighted at how this project has come together. It's a really good example of what we do best at UnLtd, which is to bring our industry partners together to rally around a common cause. This issue affects us all and it's one that requires attention and focus like this so that we are working towards a more mentally healthy supportive society.''
Melissa Fein, CEO of Initiative added: "I'm so proud of the Initiative team for leaning in to work hand-in-hand with our valued media partners to back this campaign. The stats clearly show why this cause is so important and the incredible support we've already garnered from the industry to build awareness for this campaign is invaluable."