Work
Welcome to The New Norm&Al
A (g)lovely pair of puppets try to navigate the shift to plant-based eating in Oatly's witty web series.
Unlock full credits and more with a Source + shots membership.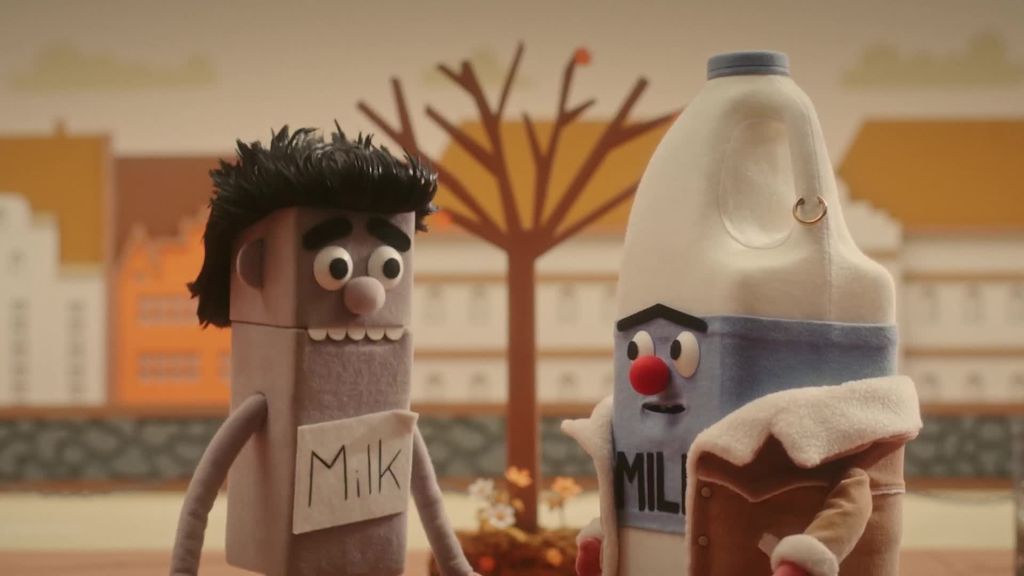 It's rare that we let our own biases influence our editorial decisions here at shots but, alas, when it comes to puppets, I, your humble co-editor, am predisposed to look upon work favourably.
Thankfully, however, this new campaign from OATLY isn't just good because of its adorably designed stars (though they are delightfully tactile), it also has a kooky, entertaining and genuinely witty script at its heart.
Titled THE NEW NORM&AL SHOW, the series follows two oat drink carton puppets named Norm & Al [geddit?] who are trying to navigate the shift to plant-based eating, through the power of friendship, bad singing and even worse dancing.
Developed by the Oatly Department of Mind Control in collaboration with Nexus Studios, the show marks the biggest ever production for OATLY, with ten puppets in the cast and eight different sets used.
Pulling the strings (as it were) are director Conor Finnegan and puppet maker Andy Gent with a voice cast including Alexander Perkins [The Office], Ethan Lawrence [After Life], and Rob Witcomb [Transformers: The Last Knight].
Oatly's Creative Director, Michael Lee comments: "After trying to help people eat more plant-based with super long Instagram posts, dorky Superbowl ads, nonsensical headlines and picking on dads in the UK, we've now landed on puppets to do the job. The cool thing about THE NEW NORM&AL SHOW is that it lets us deliver a message that people might normally roll their eyes at, but because it's puppets, well, who doesn't like puppets?
"Despite that last sentence, Norm & Al are really just about adding some fuzzy felt, wobbly arms and flappy heads with well-styled wigs to the plant-based movement, and if that all makes it easier for society to grab on to, then yeah, these puppets will be a total success."
Nexus Studios' Director, Conor Finnegan adds: "It was an udder joy to join Oatly in its mission to make plant-based lifestyles the new 'Norm(&)Al'. I hope these simple carton head puppets help spread the good word and get more people to move from dairy to plant-based through the medium of song, dance, and awkward silence.
"It couldn't have gone butter."