News
Nike launches 3D sci-fi footwear campaign from Ballistic's Tibz & Ferratche
Ballistic - Great Guns' new creative community makes its first steps into the digital space with the futuristic film.
Ballisticdirector duo Tibz & Ferratchehave worked with Nike to launch a shiny new 30" digital campaign announcing the launch of the Air Max 97 Gold Bullet on its SNKRS app, the ultimate online sneaker destination. The futuristic campaign also marks the next step for up-and-coming production company Ballistic, newly entering into the digital space.
Set to an electronic, synthesised soundtrack, the film follows a metallic time traveller from the future, who lands upon the sprawling 3D universes. A disruptive force, the emboldened figure cuts through the grey landscapes to unveil the new edition sneaker. The golden shoes tread enticingly above the buildings, defying gravity to showcase their appearance in 360°.
Nike served Tibz & Ferratche with the broad brief to reinforce the urban heritage of the Air Max 97, while showcasing a futuristic revival of the brand using its 'Born From Tomorrow' slogan. Granted such creative freedom, the pair immediately sought to push the boat and go down a more conceptual route. Using the Air Max 97 Gold Bullet as a creative entry point, the duo strove to create a graphic space bathed in coloured lights, taking up the shoe's golden colour way and melding it with urban elements to imitate goldsmithery.
Unlock full credits and more with a Source + shots membership.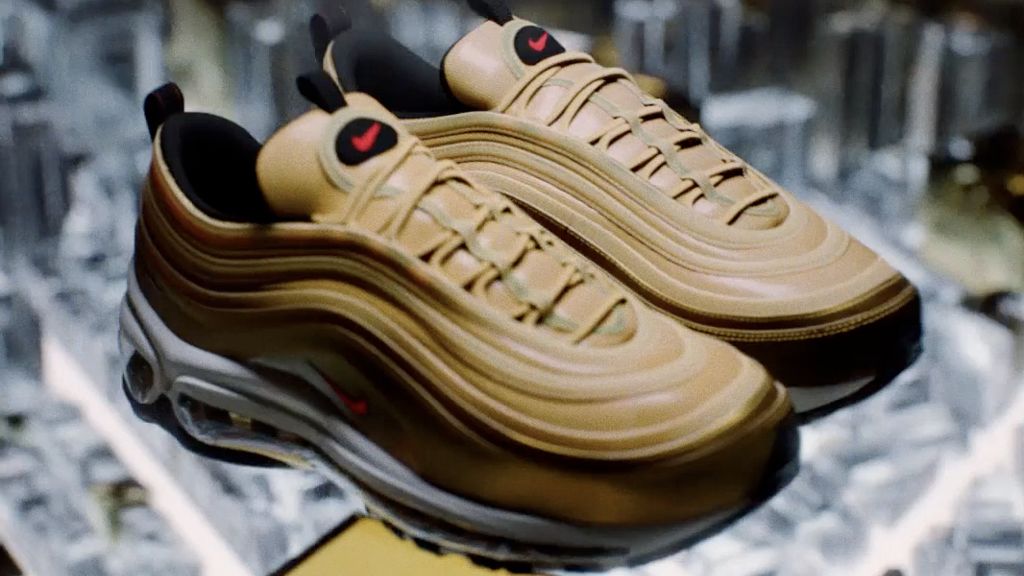 Inspired by science fiction films including 2001: A Space Odyssey and Interstellar, Tibz & Ferratche came up with the idea of a traveller from the future delivering the Air Max 97 to Earth. Experimenting with the alliances of colour, transparency, and reflection, the pair took their concrete universe to the next level, creating a multi-layered environment of undulating, wired, and metallic layers. They also designed a complete animatic based on a mock-up of the different worlds and crafted the pair of sneakers with the support of talented 3D artists, Vincent Goy and Hugo Loiseleux. These shots were then composed and lit in the frame, ensuring the shoes would be highlighted in the best possible way each time.
The film was made entirely in 3D using Blender, bringing together a number of tools to optimise work rate. With only a short time frame to work within, Tibz & Ferrache ensured a thorough pre-production process, adapted the writing to facilitate production and post, and favoured camera movements to create dynamism, as opposed to character animation and complex elements. Finally, they reduced the 3D rendering time by processing certain visual elements, such as motion blur, in compositing.
Directors Tibz & Ferratche comment: "We are very grateful for the trust and creative freedom that the Nike and SNKRS teams gave us. It's very nice for directors and more generally for creative people to be given carte blanche, to be able to express themselves freely and to play with the codes of a legendary brand."
Jamie Cox, Executive Producer at Ballistic, adds: "Whilst we have been creating content for TV and Online, the Nike SNKRS project marks Ballistics intro into the digital space and app world. The Air Max 97 campaign is a great positioning for us as we maintain a firm eye on the digital future."